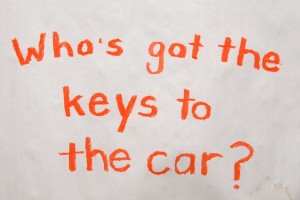 He's one of those friends that when I ask "How are you?" he really tells me. And when he asks me the same question, I tell him.
So when I saw him the other day and he asked me how I was, I thought back to our last conversation, two months ago, when I told him I was having trouble moving forward with the work I know I am supposed to be doing, the work I am called to do, because I'm afraid people won't get it, they won't believe me, they won't want to talk about this. But when I told him at the time, he got it. I thought about the lack of progress I've made… and I really told him how I was.
"I'm OK. But I'm stuck."
And what started out as "Hey, how you doin'?" turned into lunch.
We talked about what needs to be done to get things going (publish the blog posts that announce my new focus and my message, reach out to people who are in my network). I didn't give him any bullshit about working three part-time jobs (which I am) and not having time to Do What Needs to Be Done. I just put it out there.
"I'm scared."
He didn't wave it off. He didn't say, "There's no need to be scared."
He didn't even ask me what I'm scared of. (There's a list. But the What isn't the point.)
What he did do was point out that this wasn't Me being scared, it was the Little Girl Me. And it was OK for her to be scared. In fact, it's her job. (One of her jobs.)
Then he said something that hit me between the eyes:
"Just don't give her the keys to the car."
Now that's a metaphor I can get into.
"Just don't give her the keys to the car."
I laughed out loud, and said, "She must be the reason I haven't been able to put the car on the market!" (That's another story. One he didn't even know about.)
She can be scared. I can comfort her. I can let her go hide. The real me, the Ancient and Eternal Me, she's not scared. She knows – I know – what to do, and can do it. But if I give Little Girl Me the keys to car and let her drive – or she hides the keys under the sofa cushions – then we'll never get anywhere.
"Just don't give her the keys to the car."
So over the last few days, every time that fear has cropped up, that resistance, I've thought of that. And laughed. And then done a little piece of the work that needs to be done.
And I made a poster for myself and taped it on the wall where I can't miss it: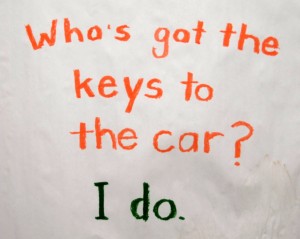 I'm tempted to write Dammit! in fine print at the bottom.
But I'm keepin' the keys.
Get ready. We're going for a ride.