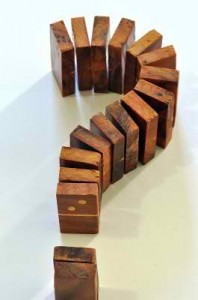 Once upon a time…
I was working with a client who was experiencing some challenges with his interpersonal skills, especially with people with whom he was unfamiliar. (Who among us has not faced that challenge at one time or another?)
After working with him and observing him for a while, I gave him this assignment: Today, focus on making eye contact with people. That's all. Just look them in the eye.
At the end of the day we debriefed, and I asked him: Did you pay attention to making eye contact with people? "Yes," he said.
How did it feel? I asked.
"It felt like I knew them."
* P O W *
That answer literally stopped me in my tracks.
It wasn't the answer I expected. I expected to hear "It was uncomfortable," or "It was really hard," or "It was easier than I expected," or "It got easier with time."
No.
"It felt like I knew them."
I am so glad I asked that question. I could have asked him something easy, like "How did it go?" To which a typical answer would have been "Fine." It would have taken more questions to get to something useful.
But by asking a different question, I got a very different answer.
One that surprised both of us.
One that gave us a lot more to think and talk about.
"How did it feel?"
"It felt like I knew them."
What a beautiful idea.
This conversation taught me something important about asking the right question. It taught me that when I ask the right question, amazing things can happen. Things that make both parties look at things differently.
I actually knew that. But it's lovely to be reminded.
Ask questions.
Ask questions that are different than the usual questions.
Think of a question, then think of that question one level deeper.
You might be surprised by the answers you get.
And isn't that wonderful?
Photo Credit:
Image: Michelle Meiklejohn / FreeDigitalPhotos.net

To sign up for updates Click Here.


To learn more about the power of asking good questions,
contact me: susan at susanTblake . com .