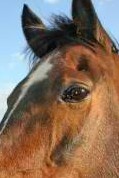 I recently had a profound experience with a group of fellow coaches and the human, equine and canine members of the team at The Flag Foundation for Horse/Human Partnership. (You can read about it here. Go ahead, we'll wait.)
A central part of that experience was just being present, being totally there, being willing to let go and wonder, What will happen if I do this? Paying attention. Being open. Not worrying if I got muddy or wet or covered with dog spit. That openness made it easier to improvise. To let things happen. What's going to happen next? And being there for it. Our whole group did that, and our human leaders did that in response to what transpired and what we needed.
* * *
A friend recently called me to talk through a situation with an organization with which she's been working. We got curious about what she was experiencing, about why she was reacting the way she was, and about her options.
I've been in situations like hers, and they call for being curious about the people around us, for seeing what's happening and yet suspending judgment, for being present in the situation, and for letting go of our egos. For being willing to get muddy and covered with dog spit. To be in a situation where getting stepped on is a possibility, and taking precautions while still being open.
* * *
Which reminds me of  a class I recently taught on strategic management for a group of leaders and managers. One of the things we dove into was why strategies fail. A key factor is the existence of competing objectives, goals that aren't talked about openly. These can't be uncovered if we view the situation with judgment; we must explore the situation with curiosity instead. (My objective of connecting with the horses was made difficult to achieve by my secondary goal of not getting sunburned – I slathered myself with stinky sunscreen. Ah. Next time I'll skip the sunscreen and wear long sleeves.)
* * *
After my experience with the horses someone told me I was brave. No, I said, I was just present. I stayed present with an open heart. It occurred to me later that the root of the word "courage" is the French "coeur," or "heart." To have courage is to have heart. ("Ya gotta have heart… all we really need is heart…") To be courageous is to be… hearteous.
I know, that's not a word. You know what I mean.
To be courageous, brave, is to show up with an open heart. To be curious. And to act.
Are you willing to show up and be open, to ask, What happens next?
To suspend judgment and really experience What's happening now?
To dive into the mystery with an open heart?
Would you like to try?
Shoot me an email: susan at susantblake dot com. And enjoy this:

This video was apparently shot when the power went out during a Tommy Emmanuel concert, and he continued – with just two luminarias on stage and someone holding a flashlight in the balcony. In it, he tells the story behind one of my favorite pieces of music.

To sign up for updates Click Here.
Image: bk images / FreeDigitalPhotos.net