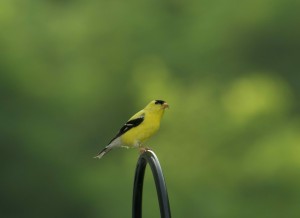 A few years ago, my sister (Hi, Casey!) gave me a very cool birthday present: A bag of cotton wool in a cotton net bag, designed to hang next to the bird feeder. Why? So goldfinches (my favorite bird) could use the cotton wool in their nest building.
It worked great, too! The goldfinches loved it, and I had a blast watching them pull out tufts nearly as large as themselves and fly away with it.
The following year I went to my neighborhood bird-feeding supply store, but I couldn't find anything similar. Hmm. I went to the local Big Box pet supply store and trolled the Wild Bird Supplies aisle. Nothing.
"Hmm," I thought, "now what do I do?" I picked up the cat food and cat litter that were also on the list (yes, they enjoy watching the birds, too), and on the way past the Domesticated Rodent aisle, I had an idea.
"What if I could re-purpose something made for different animals?"
I went to the Domesticated Rodent (hamsters, gerbils, guinea pigs, etc.) bedding section, and Aha! Tucked in between the bags of cedar shavings was… cotton wool! I picked up a bag of mixed cotton wool and grasses, feeling quite smug.
Until I realized it didn't come with a mesh bag for hanging it next to the bird feeder, since it wasn't intended for the birds. Hmm.
Suddenly my mind flashed on the suet feeder I had recently retired for the summer. It was made of coated wire mesh with openings the perfect size for little bird beaks. Aha! What if I re-purposed something that was intended for something else?
I went home and pulled out the suet feeder (which had been washed thoroughly before going into storage), filled it loosely with grass and cotton wool, and hung it next to the feeder. Success! The goldfinches loved it!
Well, they half-loved it. They used the cotton wool but not the grass. Oh well, that's ok.
The following Spring, however, when I put out the grass/cotton mixture again, I had a pleasant surprise: The grasses were very popular with the titmice that came to the feeder, and a family of phoebes moved in and took advantage of it, too!
So my willingness to try something new, to re-purpose something, not only solved my problem for the goldfinches, it also solved another problem I didn't even know I had: How to provide nesting materials for other birds as well.
*    *    *    *    *
How often in business, and in life, are you faced with a challenge that requires some creative problem-solving? Pretty often, I'll wager. But I'll bet you don't think of that as being creative.
It is.
If you are willing to apply your curiosity to something and ask a positive "What if…" the answer is probably going to be a creative solution.
Creativity isn't necessarily about painting or composing music. And it certainly isn't about coloring inside the lines.
Yes, you are creative, too. Or you can be. Ask, "What would happen if (fill in the blank)?" Try something new.
Sometimes "the right tool for the right job" isn't available. But you can create new possibilities.
The goldfinches – and the titmice and the phoebes – are glad I did.
Please leave a comment below!
Sign up to receive more fun, thought-provoking posts and occasional announcements in your inbox! Click Here.
Photo by: Qiang Wu, Dreamstime.com