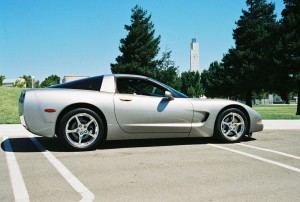 I pulled into a parking spot at the grocery store, just before lunch time, after a meeting and on my way to one of my jobs. On top of the world after a successful meeting.
I got out of the Corvette, and a guy in a pick-up truck had pulled up behind me, window rolled down. He held out a brochure.
"May I give this to you?" he asked.
Oh no, I thought, a religious tract.
"Sure," I said, suspicious.
"We're the oldest Corvette association in America, and we're right up in San Ramon. We'd love to have you come."
Not what I expected. "Cool!" I said, "Thank you!"
Standing in line at the deli counter, I burst out laughing. People looked askance. "Damn," I said to myself.
Ah, the irony. And the perfection. I've been driving (and loving) the Corvette for nine and a half years, and this Parking Lot Angel finds me now, when I am thinking about wrestling with selling it.
(I told the whole story to a friend last night, and he said, "You are cool. The Corvette is cool by association.")
Well, I will go to their next meeting. They may be able to help me sell it. Or they may be able to help me not sell it. And they may be angels for my other work, too.
Either way, angels are not to be ignored.