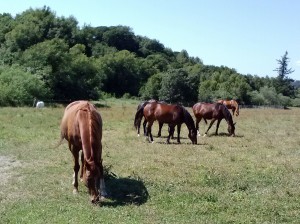 Working with horses has taught me a lot of lessons, but I never expected to apply them to working in Retail and on Construction Sites.
I started working with horses a year ago, after being introduced to Equine Guided Education (EGE) by the people and horses at Equistar Farm. The lessons I have learned about myself have had a profound impact on me. (One profound impact has led me to change the focus of my coaching and consulting, but I'll tell you more about that later.) I want to tell you about two of the unexpected applications for lessons I've learned from being with the herd. Here's the first:
Shoppers Are Prey Animals
While retooling my coaching/consulting practice, I took a part-time job in Retail. It was one of those things you (I) tell yourself (myself) you'll (I'll) never do, but keep in your (my) back pocket In Case of Emergency. Well, last Fall was the Case of Emergency, and I started working in a little clothing store – my first retail job since college. (And that's a while ago.)
And, to my surprise, I'm having a blast.
The store managers put together a good team of people who work really well together (most of the time), and I love working with the customers (most of the time).
We are expected to greet every customer who comes in, to connect with them. There is a higher likelihood that a Visitor to the store will become a Customer if we connect with her. It makes sense, really; if a customer has a question, or is unfamiliar with our merchandise, or wants to try something on, or needs a second opinion, it's easier to get help if she has a connection to someone. (I know I hate going into a store and being ignored.)
So I greet customers when they come in and try to at least acknowledge their presence and help them feel welcome.
Customers want to feel welcome, but they also need to feel safe. (I hate going into a store and being ignored, but I also hate going into a store and being pestered.)
When I greet a customer, sometimes we'll strike up a conversation and quickly develop a rapport. But other times the conversation goes like this:
"Hi, welcome to ____ ! How are you today?"
"I'm just browsing."
Funny, I didn't know "browsing" was a condition, like "Fine" or "I'm doing great" or "I'm so hot, I'm glad it's cool in here!"
At first I was tempted to say, "That's not what I asked." But I've been in their shoes – and I realized "I'm just browsing" IS a condition: They have PTSD – Post-Traumatic Shopping Disorder! So what I say instead is, "That's cool; make yourself at home. My name is Sue if you need anything."
That's how I realized Shoppers are like prey animals. Like horses are prey animals. Wary of being pounced on and trapped.
So I started treating my customers like I treat my friends in the herd.
"She's gone completely bonkers," I hear you saying. But stay with me.
When I introduce myself to members of a herd, they don't like it if I walk directly up to them and try to start interacting. They are immediately suspicious – it's a little too much like being charged by a lion, or a wolf. It works much better to ease into it – approach, pause, check each other out, come closer. Non-threatening.
So after turning off a few shoppers, I started behaving like I was with the horses. Rather than walking right up to them and addressing them directly, I try to be busy with something else – straightening shirts on hangers, putting things away – but not too busy to notice them and say hi, making them feel important. I greet them warmly but casually: I see you and acknowledge you, but you're not in my cross-hairs.
Funny thing, they respond to that.
Learning to help the horses feel safe with me has taught me about helping others feel safe.
The horses have taught me to be a better salesperson. And since I take the Service part of Customer Service very seriously, that means a lot to me.
Stay Tuned for Part II!

Please leave a comment and
let me know what you think about this post!
And if you like it, please Like it on Facebook, +1 it or Tweet it!