I am pleased to announce the following equine-guided retreats and workshops! These events are being presented in collaboration with Richard Newton, a wonderful Integrative Body-Worker (human and equine) and teacher, and The Flag Foundation for Horse/Human Partnership.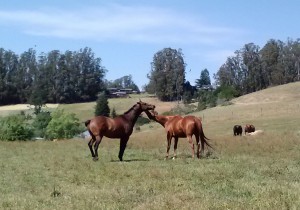 Come, and notice the song the earth sings. It can lead you to what you seek.
These retreats and workshops will be held at Flag Ranch in Sebastopol, one of the most peaceful and beautiful places I know. Richard and I will be co-facilitating with the horses of Flag Ranch, with whom we will partner to guide your re-connection to yourself and to nature.*
Each event will include group work, time for individual reflection and time immersed with the horses in nature.
The size of each group will be limited to 10 people to preserve the peaceful intimacy of the experience.
The day will begin at 9:30 a.m. and end at approximately 4:00 p.m. A delicious, chef-prepared lunch will be provided!
The cost for each all-day retreat or workshop is $175 until two weeks prior to the event; after that registration increases to $225. Registration closes at midnight on the Wednesday prior to the event.
One partial scholarship is being offered for each event (your cost = $75); if you wish to be considered please contact Susan prior to registering.
* Please note that no experience with horses is required; all interactions with the horses will be on the ground, and no riding is involved.
Healing for Healers: A Day for
You
Temporarily Postponed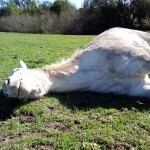 This is a day for you, a Healer. Come to Flag Ranch, a peaceful valley tucked away from the rest of the world, for a day co-facilitated by horses and humans. Come rest, rejuvenate and perhaps even deepen your healing abilities.
There will be time spent with fellow healers, both two- and four-legged, and time spent alone in nature.
Will you allow the horses to heal you? Will they ask you for healing? Perhaps they have a message for you, or the answer to a question.
Temporarily postponed pending The Flag Foundation's relocation to a new site. Stay tuned for details!
Grief and Joy Retreat
Saturday, August 22nd 2015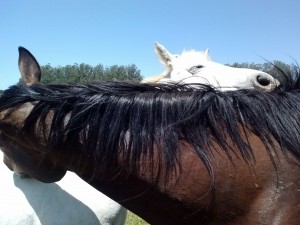 Have you experienced a major loss or change? Come spend a day exploring the cycle of Loss, Grief, Connection, and Joy in a place of beauty with extraordinary companions.
One Day. One day to breathe… to listen… to be heard.
No questions asked.
Join us for a day of group experiences and individual reflection, and take your first deep breath in… a while.

Registration is $175 through August 5, $225 August 6-19.
Scholarship application deadline is Tuesday August 4 at noon.

Notice – A Retreat for Seekers
Contact for Schedule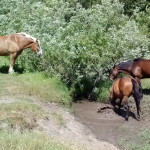 What is it that you seek? Peace? A deeper spiritual life? Answers? Connection?
When was the last time you noticed
…your heart beating?
…your breath?
…the sounds around you?
Give yourself a day to notice what's happening inside you, and what's happening outside of you.

Confide-ence: A Workshop in Self-Trust
"Confidence is not a guarantee of success, but a pattern of thinking that will improve your likelihood of success,
a tenacious search for ways to make things work." –John Eliot
How would you define the word "confidence"?
For most people it means believing something positive about yourself, that you have a certain ability or expertise. For others, it means trust.
My definition changed on the day I was asked, while participating in a leadership workshop, to map out the people in my support system. I saw in that moment that my confidence in myself had taken a big hit when I lost my main confidant – my husband. The person in whom I confided, and who confided in me.
I realized that I needed to focus on nurturing my support systems, so they could help me establish new patterns of thinking and strengthen my belief in myself.
Perhaps your pattern has been disrupted by an event (death, divorce, medical issue, job loss…). Or maybe you would simply like to strengthen your pattern and face life's challenges with grace.
Come, and spend a day close to nature, connecting with others and with your best self. Through guided meditation, carefully crafted activities and connection with the horses of Flag Ranch, you can begin laying a new foundation of confidence.
*  *  *
Come, and listen to the song the earth sings. Leave with that song in your heart.
*  *  *
Are you interested in a custom event designed especially for you? Contact Susan.
*  *  *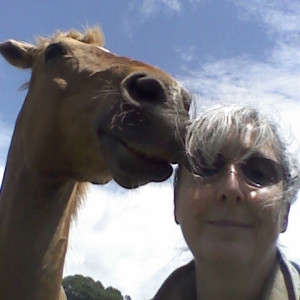 For More Information about Susan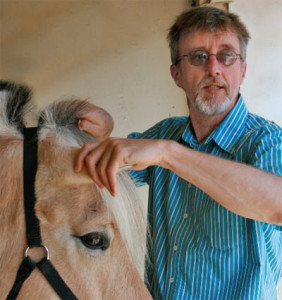 For More Information about Richard

"The Flag Foundation's primary mission is to renew and expand the horse/human partnership. We give homes and new life to horses, and offer renewed perspective for humans through opportunities to immerse and learn, and return to their lives refreshed."
For More Information about Flag Ranch and The Flag Foundation for Horse/Human Partnership