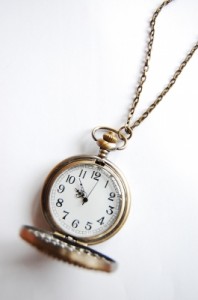 Yesterday, as I waited at the Crosswalk With the Fake Button And The Light That Changes In Its Own Sweet Time, I noticed a grizzled old guy in a white t-shirt and jeans. I noticed him because he had a silver chain going to the watch pocket of his jeans. Nobody does that any more. Which made me curious, did he really have a pocket watch? What did it look like? So I went over and stood next to him as we waited for the light to change.
He started talking to me – First about not crossing against the light because he'd talked to a guy who'd gotten a $250 ticket… the cops hide just around the corner and watch, he said. (Mental note.) Then I commented on the watch chain, and asked if he really had a pocket watch. He pulled it out and showed it to me: Nothing fancy, just an old Timex. He has a collection of watches, he told me; in fact, he thought he even still had his high school graduation watch… somewhere… "I wonder if it still works," he wondered out loud.
The light changed and, as we crossed the street, he told me about the weird (his term) things he collects in addition to watches. Probably the strangest, he said, was his collection of axes. Axes? Yes, axes. He has everything from very small hatchets to very large axes. He has about 50. He's currently searching for one used by the lumberjacks in the redwoods. The axe handle is more than 40 inches long, and the axe head weighs a ton. (He told me how much but I don't remember.)
"You'd think those guys had to be big and tall to use an axe like that," he said, "but I read that on average they were less than 5'7". They must have had big burly arms, that's for sure."
He went on to tell me that he has lots of hobbies in addition to collecting axes. For example, t-shirts don't have pockets any more, so he makes leather pencil holders you wear on your belt. (He showed me the one he was wearing.) He also makes leather jewelry, and Native American jewelry with bone beads.
All this in the space of less than a block and up an elevator.
We said good-bye as he got off the elevator. "I enjoyed talking with you," I told him. And I did. Although I didn't get to do much talking. I'm glad I was curious about that watch chain.

Curiosity leads to Connection.

When has Curiosity helped you Connect to someone else?
Image "Old Pocket Watch" Courtesy of Aleksa D/FreeDigitalPhotos.net