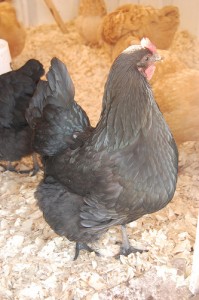 Today I was folding laundry, absent-mindedly looking out the window. A movement caught my eye, and I saw…
…a chicken.
I live in a fairly busy residential neighborhood and, even though we're only two blocks from the county fairgrounds and we are almost out in the country, we are also one block from Main Street and this is a bustling neighborhood. Even so, I've seen raccoons, possum and all manner of birds – but no chickens.
Until now.
I shouldn't be surprised; backyard chicken-keeping is becoming more and more popular. I have even considered it.
What to do?
Hmmm. I had seen the man who lives across the street outside a few minutes before, looking at his house. Maybe he was looking for a lost chicken.
So I went outside and starting talking, clucking and chirping to the chicken, slowly getting closer and herding it away from the street. It – she – spooked a couple of times but not too badly, and after a couple minutes I was able to pick her up, clamping her wings to her sides so she couldn't start a flap (so to speak).
I took her across the street to the house on the corner. As I got to the gate, a woman and her little girl were walking down the street toward me.
"That's a chicken!" the little girl said.
"It's a pretty one, too," the mother said. (She was, too: A very pretty black chicken with green highlights in the feathers. "Does it live here?"
"I hope so," I said. "I just found it across the street, and I saw the man who lives here a few minutes ago walking around; maybe he was looking for it."
"Let me open the gate for you," the mother said (since my hands were full).
She did, and I went up onto the porch. Dilemma: How to ring the bell? I tried to poke it with one finger, then leaned on it with my elbow. The chicken just clucked.
No response.
Sigh. Now what?
Well, I figured, if it's their chicken, I should just leave it. If it's not their chicken, at least it will be safe behind their white picket fence. (Yes, a white picket fence.) So I put her down and said goodbye and let myself out, and went back to my laundry.
I couldn't just leave it there
It didn't feel right, though, and I was curious. Was it their chicken? What if it wasn't?
So I finished folding my laundry, while peeking periodically out the window. She was still in the yard across the street, happily foraging in the lawn, eating seeds and bugs. When I was done, I went back across the street.
This time, without my hands full of chicken, I was able to open the screen door and knock on the door. The Man of the House opened it.
"Hi," I said, "I live across the street. Do you keep chickens?"
"No," he said, "but there's one in my yard."
"I know, I put it there," I replied. (He must think I'm nuts, I thought.) "I found it across the street, and I saw you outside looking around a little while ago so I hoped it was yours."
"No," he said, "it's not mine, but I have a dog that would probably like it."
At this point his wife and little girl came out to see what was happening. "We saw that chicken a few days ago," they told us. "It was almost dark, and I thought, 'Is that a chicken?'" the mother said. They went on to tell me they had seen it a few houses up, so I thanked them and turned to retrieve the chicken and leave.
"So, we meet again," I said to the chicken, and started to herd her toward the fence, clucking and chirping at her. She clucked back. I tried not to think about the family peeking through the curtains, watching me. This time I tucked her under one arm and lifted the latch on the gate, let myself out and pulled the gate closed.
Not so fast…
Well, the hen didn't like being tucked under my arm, so she started to scratch with her legs and got one wing loose. I dropped her on the parking strip.
She wasn't a particularly ambitious chicken; happy to be set down, she contentedly started scratching and pecking at the parking strip. I slowly herded her away from the street and toward the fence, and soon picked her back up, wings clamped to her sides, and started walking up the street.
She just clucked.
"I must look pretty funny," I thought to myself, "walking down the street with a chicken." Oh well. It certainly wasn't the first time I had looked silly and certainly wouldn't be the last.
What if I couldn't find her home? I wondered. She was a really nice chicken, pretty, well cared for, no bald spots, gentle. Someone must certainly miss her. If all else failed, I decided, I would take her back to my apartment. (Although I didn't know how I would navigate opening the front door and opening the slider to my patio with both hands full of chicken. And I couldn't imagine what my cats would think when I set down a bird bigger than either of them to open the door.) Anyway, I figured I could let her roam on my big patio, which is enclosed by a tall privacy fence. (Which hasn't kept raccoons and possums from visiting and eating the goldfish in my fountain, but at least she'd be safe from dogs and traffic until I could get a coop built.) But I would put up signs before committing to keeping her permanently.
Next stop
I walked down the block past a few houses, bird in hand. At about house three, there was a young man outside putting something in his truck.
"Excuse me," I called. "Does anyone around here keep chickens?"
"Yeah," he said. "She lives across the street." He paused, then added, "She's free range."
Apparently, I thought. "Thanks," I said, and crossed the street (thinking, "Why did the chicken cross the road?" "Because I carried her…") to a pair of duplexes. As I walked toward the buildings, wondering what to do next, a woman opened her apartment door.
Going home to roost
"Hi," I said. "Is this your chicken?"
"No," she replied, "It's theirs," and pointed at the other building. I turned around and saw a teenage boy looking at me through the window. Then a woman in her forties opened the door and came out with two young children.
"Hi," I said. "Is she yours? I found her wandering around."
"Yes, she belongs to my fourteen year old son," she said, looking at me like she couldn't decide whether to be friendly or suspicious. "She has a coop in the back and she just wanders around during the day."
"OK," I said, and put her down in the driveway, where she happily started poking around. "She's a nice chicken, I figured someone would miss her."
The mom decided on being friendly. "Yes, we've had her for about six months. She just started laying eggs. Her name is Kentucky Fried."
Seriously.
"I'm surprised she let you pick her up," the mom continued.
"Birds like me," I said. "I used to keep ducks." That sounded weird, even to me, but it was relevant – that's how I knew how to pick her up.
Anyway. I said goodbye and went home to put away the laundry. (After washing my hands.)
The Moral of the Story
The moral of the story is this: I was curious about finding a chicken roaming a street I wouldn't let my cats out on. And I had to choose between a) the risk of looking silly while attempting to solve the mystery and b) doing nothing. I didn't want her to get run over, or to have her people miss her, even more than I didn't want to look silly or (worse) like a busy-body neighbor. Sometimes the fear of looking silly can keep us from being curious and taking risks, but we get to choose whether or not to let it stop us. And it's usually not as bad as we fear.
All's well that ends well, I suppose. I met a chicken today. And several neighbors. I wonder what my encounter with a chicken portends for 2012?
Maybe I'll get a chicken…
Photo Credit: "Australorp Pullet In The Henhouse" by Paul L. Nettles

To sign up for updates Click Here.