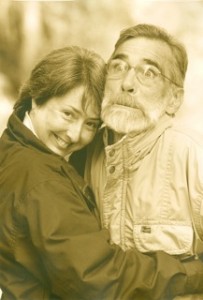 Happy Brithday, Bruce! You would have been 65 today, and it would be a significant event.
You probably wouldn't want a big party, but we would observe the day somehow… a drive through the country, a visit to a lake, the first eggnog of the year, orange cranberry muffins (you'd only eat the top – that's what "muffin top" means to me). Breakfast for dinner, sushi for breakfast.
I remember one year Aunt Norma asked me what you'd like for your birthday. She told me she was thinking of getting you a shirt. I told her how you asked me early on in our relationship to promise I would NEVER buy you clothes for your birthday or Christmas. You had told me how you had gotten clothes as presents as a kid, and how you thought those were rotten gifts – you wanted TOYS. So I always made sure you got fun stuff. Aunt Norma was surprised – but she didn't buy you a shirt. I helped her get you a juicer, and you loved it.
I also remember how you asked my mom to send you gift certificates from Lands End so you could pick out your own gifts – flannel shirts, turtlenecks, and so on. But the last few years you used those gift certificates to buy my Christmas presents: Shearling slippers, a monogrammed spa robe. You felt bad about being so disabled you couldn't work and earn money to spend – to contribute, to spend on me – but the gift certificates were yours, so you used them on me. And you asked me to promise not to tell her. Oops, too late now.
I wish… I wish we had talked about death, dying. We didn't. Not much, anyway. Even though we knew it was coming. I had my own baggage, and I stupidly feared that talking about your death would somehow damage your will to live.
I was wrong. I know that now.
You were always better about admitting you were wrong than I was. It took me a long time to learn that, and you were a good teacher.
I want you to know… I'm doing OK. Better than OK. It's been a long process, with a lot of healing, a lot of choices. It took a long time for me to remember more than your last days. To remember the fun. The life.
To feel more than the searing loss. To feel your presence more than your absence.
The presence that made me laugh. That held me. That once wrote, "Remember my eyes, they're just for you."
Happy Birthday, Bruce. I hope, I believe, I know, you are out there. Dancing. Standing straight and tall. Helping people and animals. Watching over me as I learn to live. As I learn to love.
Happy Birthday, you awesome spirit. I wish more people had known you like I did.
Love,
Susan T.