Sunday Morning
Sunday morning I got up and, rather than sipping a leisurely cup of coffee, I got dressed, grabbed my camera and went for a walk on my favorite nature trail.
One of the things I love about my little town is that it is laced with walking and biking trails. My favorite is about a mile from my home and is only open to foot and bicycle traffic. It winds through meadows and along a greenbelt next to a small river, and is either home or a stopping place for a variety of wildlife. I have encountered deer, fox, feral cats, turtle, ground squirrels, red squirrels, snowy egrets, great blue herons, Canada geese, mallard ducks, turkey vultures, red tailed hawks, red shouldered hawks, lizards, and tree frogs. Not to mention a host of small birds, including goldfinches, house finches, bushtits, red-winged blackbirds, scrub jays, mourning doves, band-tailed pigeons, cliff swallows, black phoebes, acorn woodpeckers, Anna's hummingbirds, and plenty I haven't identified yet.
So on Sunday morning I set out at the crack of dawn, wondering what I would see and who I would meet.
My first encounters…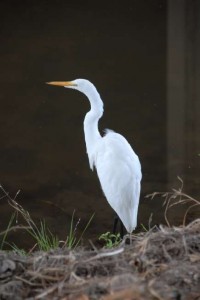 I started with my regular encounters with the finches and flycatchers, common on nearly all of my walks. I stopped to take pictures of a snowy egret where the creek and the path pass under the freeway, and he obliged me by posing and being quite patient with me.
Up above my head…
I walked on, and at a point where oak trees on either side of the trail form an arch overhead, I paused. I heard a sound… it wasn't a cluck, and it wasn't a squawk. It was more like a … mrrrrp. I heard it again. From overhead. Then I heard it from tree on the other side of the trail. Mrrrp.
I stood quite still, slowly looking up into the branches above my head. Mrrrp. Finally my eyes focused on a large brown bird amongst the leaves. Mrrrp. It was a turkey!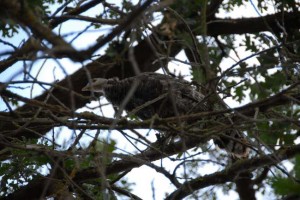 I heard the mrrrp from several places in the trees above me, and realized there was a family of turkeys roosting in the trees, checking in with each other. I counted five young turkeys and the mother, happily perched in the canopy of leaves.
Now, I have seen turkeys on the ground on numerous occasions; in fact, wild turkeys are quite common around here. It is not at all unusual in July and August to see families of turkeys with their chicks parading around.
But in trees? That's a new one on me. In retrospect, I remember a friend telling me that the turkeys on her property roost in the trees, but I had never seen it myself.
As I stood there, trying to get some clear pictures, a group of walkers came by.
"There are turkeys up in the trees!" I told them. They stopped, and looked, and marveled.
"This may be a dumb question," one of them said, "but do turkeys fly?"
"Apparently," I answered.
I wondered, how old do the young turkeys have to be before their mother can get them to fly up into a tree, away from possible predators like foxes or raccoons? How does she protect them until then? They were clearly unconcerned about me (although they were apparently talking about me) being on the ground below them, but couldn't a hawk swoop in from above and grab one for breakfast?
That's nice, but…
You may be wondering, "What does this have to do with business, or consulting, or coaching?"
Well, everything.
The day before, I had been talking with a successful professional who has been struggling with standing up for what is important to her in her home life, and it struck me that you can't be partially true to yourself. Once we put a stake in the ground or take a stand about something, it becomes more and more difficult not to do that in other areas of our lives.
The same thing is true about curiosity. Once we begin noticing what is going on around us and we being exercising our curiosity about what we notice, that spreads into all areas of our lives.
Curiosity, like enthusiasm, is contagious
If I hadn't noticed that "mrrrp" in the trees above me, and if I hadn't been curious about what it was, I never would have seen turkeys roosting up above my head.
If I don't notice what's going on with my thoughts and reactions, I can't wonder why I haven't been successful with something, or why I have been successful with something, or why I am uncomfortable around someone.
If I don't notice what's happening with a group I'm working with, or a process I'm part of, I can't wonder why things are happening the way they are, or why we can't seem to improve something, or what needs to be done differently.
If I don't notice they way things are, I can't appreciate what and who is in my life, and I can't wonder what I need to do to make things even better.
Noticing and being curious apply to everything, beginning with our inner worlds and extending to everything around us.
And when I share what I notice with others, they often get curious too.
Soaring with the eagles
You know that old adage, "It's hard to soar with the eagles when you're surrounded by turkeys"? Well, in this case, being surrounded by turkeys is a very good thing. If you notice them.
All of this talk of turkeys mrrrping up above my head reminds me of a song… enjoy!
To sign up for updates Click Here.
Photos by Susan T. Blake