In which the Universe says, "Oh, you're ready to start talking about Caregiving? Great, here's another chance…"
My last blog post was about Caregiving, and soon after I published it I found myself plunged into another Caregiving situation.
For one of my cats.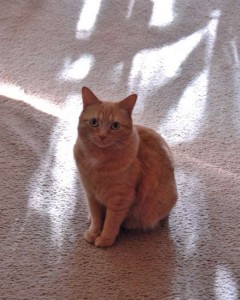 And I was amazed – appalled, actually – at the impact it had on me.
I made decisions, I gave her medicine and did all the things the vet told me to do, and I did the other things that needed doing. And yet…
I was a wreck. I was on the verge of tears much of the time. I had trouble concentrating. I worried – What if I had to put her to sleep? How much was this going to cost? Should I postpone my trip to Seattle? Was I giving her good enough care? Was I neglecting my other cat?
And I wondered…
How did I ever manage to be caregiver to my late husband and work full-time and maintain some semblance of composure and concentration, and professionalism at work?
Maybe, I thought, my composure and concentration at the time weren't as good as I thought. I remember sobbing in the shower before going to work. I remember praying for help, for strength, for patience, for guidance. I remember feeling like I could never do enough, never do it well enough.
I talked to a friend
I talked to a friend of mine about this, a friend who happens to be a licensed therapist and a coach. She also, it turns out, has done Bereavement Counseling. She asked if she could tell me what she thought.
I said yes. (And I appreciated that she asked.)
She said that when I was caring for Bruce, I was probably in Emergency Mode. I did what had to be done. With Abby, the stakes are different. (I also had time to prepare, in Bruce's case, like the metaphor about the frog in hot water.)
She also said that there may be an element of Post Traumatic Stress, and that this situation is triggering reactions from when Bruce was sick, reactions I often didn't let myself feel at the time.
Pretty smart, isn't she?
I lightened up on myself
So I lightened up on myself. It didn't change the emotions I was feeling, or the trouble I was having concentrating, but I started allowing myself to feel it without judging myself for it. Not beating myself up for not being perfectly composed and competent.
I remembered something I already knew
And in thinking about the questions I've been asking myself and the universe, I realized something. Or remembered something I already knew, but now understand in a different way:
There are productive questions and unproductive questions.
Rhetorical questions like "Why can't you…" and "How could you…" are whips.
Asking rhetorical questions is not practicing Curiosity, it is whipping.
Asking why something is happening is curiosity if I am really looking for the answer and not beating myself (or someone else) up with a belief.
Rhetorical questions are not born of curiosity.
Rhetorical questions are not really questions at all, as they are not looking for an answer, they provide an excuse to state an answer that is usually a belief – and is frequently a negative one.
Sometimes the wording is important, but more often the intent and the emphasis are key.
For example…
Rhetorical Question: How did I EVER manage to be a competent caregiver to my husband when I am such a wreck about a cat?
Answer: Ha, you only thought you were competent caregiver. You really suck at caregiving – for people and cats.
Curious Question: How DID I ever manage to be a competent caregiver to my husband when I am such a wreck about a cat?
Answer: That's a good question. You rose to the occasion, and even though you cried and you prayed and you felt like you floundered through uncharted territory, you did what needed to be done. Maybe not perfectly, but well. Well enough. Maybe it only feels worse because it also brings up memories from before.
Hmmm. Curiosity not only honestly seeks an answer, but it holds hands with compassion.
I thought I knew that, but I guess I forgot.
Or maybe some lessons in this (hopefully upward) spiral of life are learned over and over.
And so I offer you this: When the voices in your head are asking you questions, hit the Pause button and ask yourself whether they think they already know the answer, or are they honestly looking for an answer? Are they open to a different answer?
And if you find yourself asking questions of other people, hit the pause button. Do you really want to find an answer? Or are you just trying to make a point?
Applying curiosity to the issue, and to our behavior, can change everything.
Note: Abby is recovering and I am regaining (?) my sanity. She is scheduled to have her stitches removed tomorrow, and hopefully life will return to some semblance of normalcy.

To sign up for updates Click Here.