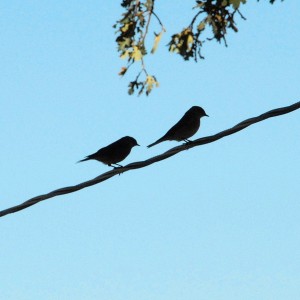 Yesterday I went to the wedding celebration of a friend of mine. A friend whom I hold dear, although we don't spend that much time together.
I almost didn't go.
I looked forward to it all week, but when the day came I was reluctant.
I would be going alone, and I didn't think to call anyone to carpool. Would there be anyone there I knew? I feared going and being surrounded by others but feeling isolated. Would my little gift be good enough? They wouldn't miss me if I didn't go…
Wait a minute. I would miss them if I didn't go. And, I said to myself, there were a lot of people she could have invited, and didn't. She invited me.
I wrapped up my little hand-made gift, with something for each them, something personal, far more personal (aka Vulnerable) than something I might have gotten from Pottery Barn or wherever, and wrote in my hand-made card with one of my own photographs on the front. And off I went.
I arrived at the wedding party and, as soon as I arrived, a friend I hadn't seen in months waved at me and said, "Come sit by me!" We chatted and caught up while we ate plates of Mexican food and drank margaritas, watching as party-goers learned salsa dancing. Other friends came and went from our little group, dear friends, new friends, acquaintances I hadn't seen in several years.
Then a man appeared in front of me and held out his hand, inviting me to dance.
I have never salsa danced. Ever.
And I feel very awkward when it comes to any dance that requires Following.
And.
Remember the movie, "Risky Business?"
Sometimes you just have to say, "What the fuck."
I put down my plate and got up. And danced. And it worked! "It's just like walking," my teacher said. "You're doing great!"
How funny, I thought, not long ago I needed help walking after a horse stepped on my foot, and my walking partner said, "We're just dancing, and you get to lead." "That's good," I remember thinking, "I suck at following when I dance." Now I was dancing, and my partner was telling me it was just like walking, and I was doing great at following. Hmmm.
We danced, and I danced several times throughout the afternoon between conversations and hugs and laughs. Ultimately I ended up in a corner with three other friends (two old, one new), just talking and Being With. It was lovely.
As we were helping our friend load up her car with gifts and leftovers, one of her friends, with whom I had danced, handed me one of the last flower arrangements to be given away and said,
"Here, Wild Thing, you need some flowers."
Wild Thing? Me?
I laughed, and accepted. The flowers, and the name.
This morning I got up and drank my coffee and caught up on blogs I follow, and I noticed a distinct theme. The first, What We All Need, was about the importance of just being with. The second was about belonging, and how it is a distinctly 21st Century Challenge that requires stepping outside of our comfort zones. The third was about belonging to ourselves, receiving what is here and receiving the sacred. Through just being with it. Hmmm.
Belonging. Comfort Zones. Accepting. Showing Up. The truth is that if I am willing to step out of my comfort zone, I sometimes find greater comfort. I'm glad the voice that says, "I do belong" is louder than the voice that says, "I don't belong."
Which voice do you listen to? Which voice do you encourage others to listen to?