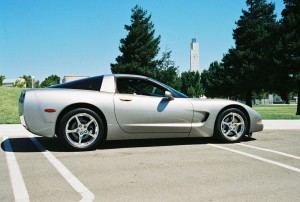 I finally get the meaning of Attachment.
It's a concept that has floated across my awareness at various times in my life, generally with the teaching that "bliss isn't really possible when you're (too) attached to things (or people, or outcomes)." I thought that meant "don't get (too) attached because it will hurt when you lose it."
Well, as someone who has moved numerous times and given away or sold lots of stuff in the process, as someone who throws Garage Sales for fun, I didn't think Attachment was an issue for me.
I was wrong.
Even when I worked in a corporate job and wore Italian wool suits, I knew I would go home and put on mismatched socks and overalls. Attachment? The only things I was really attached to were my husband and my cats. (And my guitar. And my camera. And the antique cameo Aunt Norma gave me as a Welcome To The Family gift. But really, that was all.) (Really.)
I was wrong.
The other day I was telling a friend about how I am having trouble getting my car ready to sell, and how I had realized how much I liked the aura of coolness the car gives me. How much I like…
…the way people look at the car, look at me, and say, "That's your car?" (Why are they so surprised?) And then they look at me differently.
…the way we Corvette drivers nod and wave at each other. Nobody else does that. Except bikers.
…the way people say, "You have the. Coolest. Car. Ever." So I must be cool by association. Right?
…the way other drivers treat me. They yield the right of way just to watch the Corvette go by. On the rare occasions I've had to drive something else, I get no respect. People cut me off and steal the right of way.
This is all on top of the pure and simple Joy I get from driving the thing. From seeing an opening in traffic and putting the car there. From goosing the accelerator and taking off. From flying along the highway. From going around curves and corners at speed.
But that wasn't what I was talking about.
It wasn't about the fact this was the last car Bruce and I bought together.
And it wasn't about the fact that I paid it off.
I was telling my friend how I had finally had to admit that my ego liked the way people look at me because I drive a Corvette…and how that made me feel.
She just nodded and said,
"Yup. That's an attachment."
Damn.
Here's what I've realized
Attachment in itself isn't a bad thing. The problem lies in what it keeps me from doing, or drives me to do (so to speak). And, more importantly, what lies behind it. Whether or not I sell the car, realizing the reason behind why I've had trouble moving forward with selling it is huge. That lesson can't be unlearned, whether I sell the car or not.
Even more importantly, I realize as I write this, Attachment and Connection should not be confused.
We get Attached to ideas and beliefs. We Connect with Others.
This is a reminder to myself to finally believe in my Innate Coolness and Amazingness. Regardless of what I drive.
And to focus on Connection, not Attachment.

Where are your Attachments and your Connections?
Please leave a comment!
Please share this post by Liking it on Facebook, +1 it or Tweet it!